Art with Color Expressions - Friday Oct 21 at 6:30pm
Reservations Required - 586-229-2798 Cost is $30 (cash or check only)
Do you like adult coloring books? Or watercolor painting? How about combining them both with watercolor PENCILS? Easier to control than paints, pencils will give your painting the finer details that will make you look like a pro! No artistic experience necessary! All materials will be provided so that you go home with a finished 8x10 picture. Registration is required and seating is limited to 10 people. Cost is $30 (cash or check only) to cover art supplies. We'll provide snacks and wine from Michigan By The Bottle. Instructor Carol Shulte is a local, self-taught artist who created Studio in the Pines. She sells her drawings at many area art shows and is currently teaching an art class in Richmond.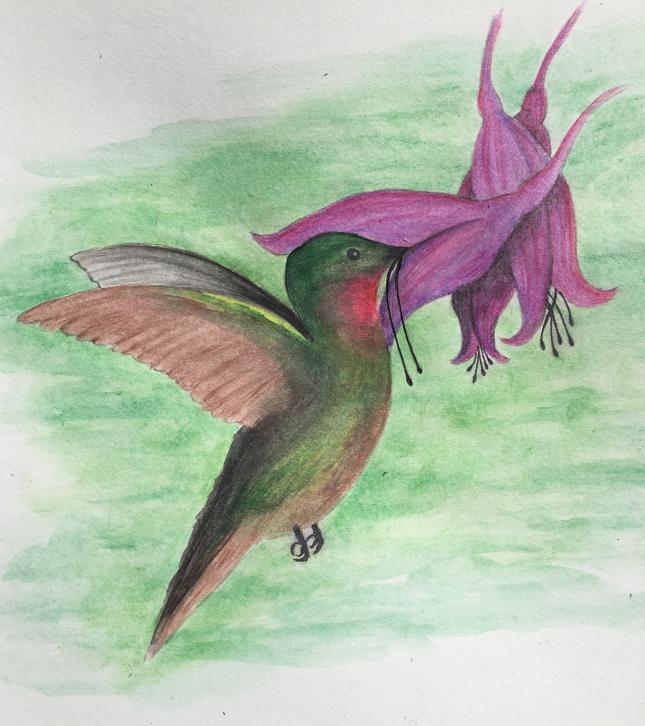 The Organization for Bat Conservation is coming to our store!
The Gardening for Wildlife live animal program explores the connection between plants and backyard wildlife such as birds, butterflies, and bats. This engaging and educational program features colorful photos highlighting beautiful native plants, wildlife that you can attract to your garden, and live animals! Reserve your seat! 586-229-2798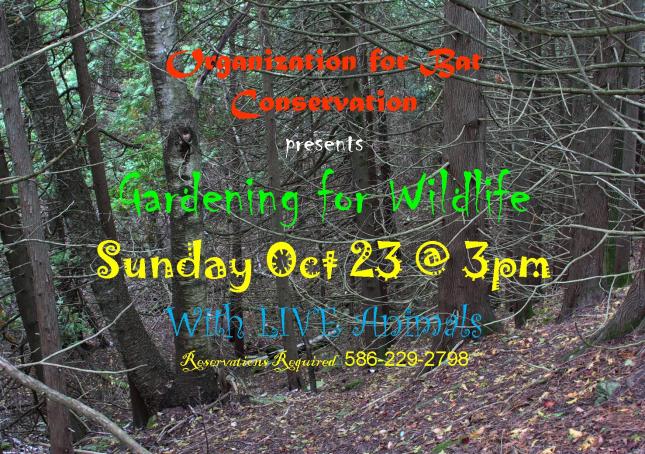 Better Seed and Birds = Better Value
Wild Birds Unlimited is dedicated to offering fresh, top-quality seed - the best in the market.
We believe your birds shouldn't have to search through the fillers contained in most discount seed blends to find the food that they actually want. More importantly, we believe you shouldn't have to pay for the fillers.
Our no-waste seed blends are made from 100% edible seed and have been exclusively formulated for the feeding preferences of the birds in our area. That means you only pay for fresh seed that will attract the kind of birds you want to see in your backyard.
So stop by the store this month for the best prices on the best bird food in town. You and your birds will enjoy our food more than what you might find at another store - we guarantee it.
Providing Food Now Will Help Later
During fall and winter, chickadees, nuthatches and titmice will hide food to retrieve and eat at a later time. This behavior is called "caching." Caching helps birds survive during bad weather and when food sources are low.

These birds store hundreds of seeds a day, and each seed is placed in a different location and they remember where each one is. They can find each site accurately even a month later.

By providing an easily accessible food source, you can help your chickadees, nuthatches and titmice with their caching needs. Below is a little more detail on some of your favorite birds' caching behaviors.



Chickadees

Cache seeds (in the shell and out), nuts, insects and other invertebrate prey
Food is typically cached about 100 feet (30 m) from feeders
Cache more during the middle of the day
May carry off several seeds at a time, but each item is stored in a separate location
Store food in knotholes, bark, under shingles, in the ground and on the underside of small branches




Nuthatches

Prefer to cache hulled sunflower seeds, because they are easier and faster to cache; occasionally mealworms
Choose heavier seeds (because they are larger or have a higher oil content)
Food is typically cached about 45 feet (13.5 m) from feeders
Most active caching time is early in the day
Store food in bark crevices on large tree trunks and on the underside of branches




Titmice

Cache sunflower, peanuts and safflower
Food is typically cached about 130 feet (40 m) from feeders
Cache one seed at a time and typically choose the largest seeds available
Often remove seeds from their shell (80% of the time) before hiding them
How to Attract More Birds with Suet
Migration, food preferences and weather vary continuously throughout the year, and these influence the bird activity at your feeders. Being "seasonally savvy" means you adjust your feeding program to match birds' changing behaviors. Learn to embrace seasonal changes, and you will attract more birds and experience even more fun!
For a Seasonally Savvy Bird Feeding Station:
Keep your Foundational Feeder and Fat Feeder active and well maintained all year.
When bird activity is greater or extreme weather arrives, expand the number of foods and feeders you offer.
Change the types of feeders and food as migrating birds arrive, when fledglings begin to show up or as the seasonal habitats change:

When Dark-eyed Juncos arrive in the fall, alter your feeding program to include more millet in a feeder near the ground.
Add sunflower seeds (in the shell) to your food mix each fall to cater to the caching behavior of chickadees, titmice and nuthatches.
Add a water feature to attract migrating warblers and offer Jim's Birdacious® Bark Butter® nearby.
Orioles and hummingbirds – offer nectar feeders a week or two before their normal arrival dates. Offer fruit, jelly and mealworms for orioles, too.
Add calcium enriched foods during nesting season.